Screenshot 2020-11-24 at 1.36.46 AM
Screenshot 2020-11-23 at 3.18.03 PM
Screenshot 2020-11-23 at 3.18.45 PM
Screenshot 2020-11-20 at 3.50.10 PM
Screenshot 2020-11-20 at 3.47.15 PM
Screenshot 2020-11-20 at 3.45.22 PM
Screenshot 2020-11-20 at 3.44.46 PM
Screenshot 2020-11-20 at 3.44.11 PM
Screenshot 2020-11-20 at 3.43.37 PM
Screenshot 2020-11-20 at 3.42.50 PM
Screenshot 2020-11-20 at 3.39.53 PM
Screenshot 2020-11-20 at 3.38.15 PM
Screenshot 2020-11-20 at 3.33.21 PM
Screenshot 2020-11-20 at 3.03.58 PM
Screenshot 2020-11-20 at 2.51.59 PM
Screenshot 2020-11-20 at 3.00.58 PM
Screenshot 2020-11-20 at 2.51.11 PM
Screenshot 2020-11-20 at 2.49.40 PM
Screenshot 2020-11-20 at 2.48.27 PM
Screenshot 2020-11-25 at 12.25.31 AM
Screenshot 2020-11-25 at 12.27.33 AM
Screenshot 2020-11-25 at 12.31.45 AM
Screenshot 2020-11-25 at 12.25.15 AM
Screenshot 2020-11-25 at 5.09.05 PM
Screenshot 2020-11-25 at 5.27.47 PM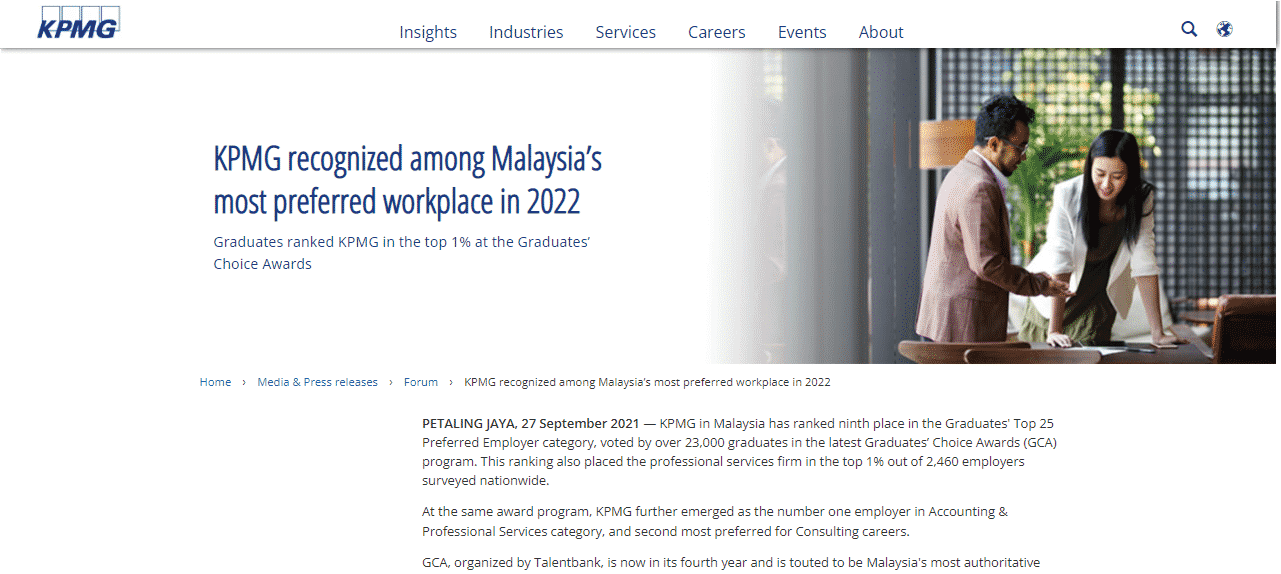 How has GCA impacted/benefited your organisation?
A heartfelt gratitude to our people in the organization that has provided the best guidance to the potential talents and future leaders of the country. Without them, we could not have being recognized as one of the top graduate's choice in the industry. With GCA, it has also greatly leverage our business diversities presence within the industry alongside with the recognition of the commitments and efforts made by our people throughout these years.
— Sunway Construction
We are pleased to receive the Graduates Choice Award recognition once again, it is a significant honour for our organisation. The award is a testimony of the endeavours of our staff and a reflection of our good standing among young Malaysians. It highlights the Sunway Education Group as an organisation where graduates can aim to work at for better career and future prospects.
— SunU Branding Team
The Graduates' Choice Award is one of Malaysia's Most Authoritative Graduate Employer Branding Award with its results 100% determined by the votes of university students nationwide. Our ranking gives us insight into where we stand with one of our most important talent pools. We are honoured to be ranked among the top and will strive to solidify our brand as one of the preferred employer brands for graduates as this has also enhanced our position as the Employer of Choice for graduates to begin their career with us.
— Sunway Property
The Award and recognition is definitely an enabler for Sunway Healthcare Group to attract top talents and reduce marketing and recruitment cost.
— Sunway Healthcare
The CGA is a rock-solid testament of more than 23,000 university students from all over Malaysia to the commitment of Sunway Hospitality as an employer of choice in creating future distinguished hoteliers within the industry. Employer accolades are crucial as these recognitions help Sunway City Kuala Lumpur Hotels to become a talent magnet that draws the crème de la crème of graduates.
— Sunway Hospitality
It certainly is an honour to be recognised by the GCA as this recognition distinguishes Sunway Malls' strength in employer branding among public and private universities in the country. More often than not, the mall industry is regularly overlooked by graduates. Through GCA, our position as a leading employer is amplified and this positive effect augurs well with our need for bright graduates to join our growing industry.
— Sunway Malls
What is your organisation's outlook on the job market for fresh graduates in the upcoming year?
The development of our country has been continuously growing despite of the pandemic which is seen as a repercussion for many industries. This unprecedented disruption has emphasize the importance of digitalization and automation in which we believe that there will be an emerge of new roles across companies; i.e Full Stack Developer and Automation Engineer in the construction industry. Graduates are expected to be more resilience, inclusive and agile whilst the rebound of the job market can be uncertain and uneven.
— Sunway Construction
We see excellent opportunities for fresh graduates as industries recover and aim to build back stronger than ever. We anticipate many sectors of the economy seeking newly qualified graduates who have demonstrated high achievement and resilience through the pandemic. At Sunway University we have prided ourselves on delivering an outstanding education throughout the recent challenging period and our graduates are extremely well-prepared for the future both in terms of job specific knowledge and all-round professional skills.
— Prof Graeme Wilkinson
Vice-Chancellor
We believe that the job market for fresh graduates in the upcoming year is on the recovery path. For us, 37% of Sunway Property's workforce consist of youths, who bring energy, new perspectives, adaptability and agility to our entire team. We are definitely on the lookout for new graduate talent who are digital natives, innovative, and can bring fresh ideas to help our purpose to serve our communities as a Master Community Developer whether for entry level positions or our management associate program.
— Sunway Property
Sunway Healthcare Group's (SHG) outlook on job market for fresh graduates would be bright next year as organisations are ramping up hiring after close to two years of inactivity during the pandemic. With SHG's expansion in Bandar Sunway and Seberang Jaya, we are looking forward to talents and professionals to join a dynamic and growing team
— Sunway Healthcare
The employment market for fresh graduates might not be as bad as the early onset of the COVID-19 pandemic, where some believe that it shared a similar fate to the graduates from the Year 2009, who experienced the worst of the Great Recession.

However, the outlook for the class of 2021 seems positive compared to their 2020 peers as the recent shift for COVID-19 into an endemic phase has brought realignment to many sectors, especially hospitality. The prediction is that there will still be flux over the next six months up to a year, as the re-opening of global borders and economy adapts to all the new norms and changes that we have witnessed over the past 23 months. Graduates may still face challenges in finding the right job in the industry but, indications are hopeful that the hospitality industry is on the road to recovery from one of its major setbacks in history.
— Sunway Hospitality
The mall industry is a fast-paced and challenging environment. Sunway Malls is gearing to be amongst Malaysia's largest mall owner-operator, with plans to expand to 18 malls in 2030 from our current 8 physical and digital malls. Our robust growth indicates we are on the lookout for young talents who have sharp minds and are not afraid to challenge the status quo. We foresee the job market for fresh graduate to be optimistic and diverse as it takes various skills, talents and business acumen in a mall operation. Exciting opportunities are aplenty for fresh graduates of numerous fields, as the skills required ranges from the inception of a mall, to mall operation and mall management.
— Sunway Malls